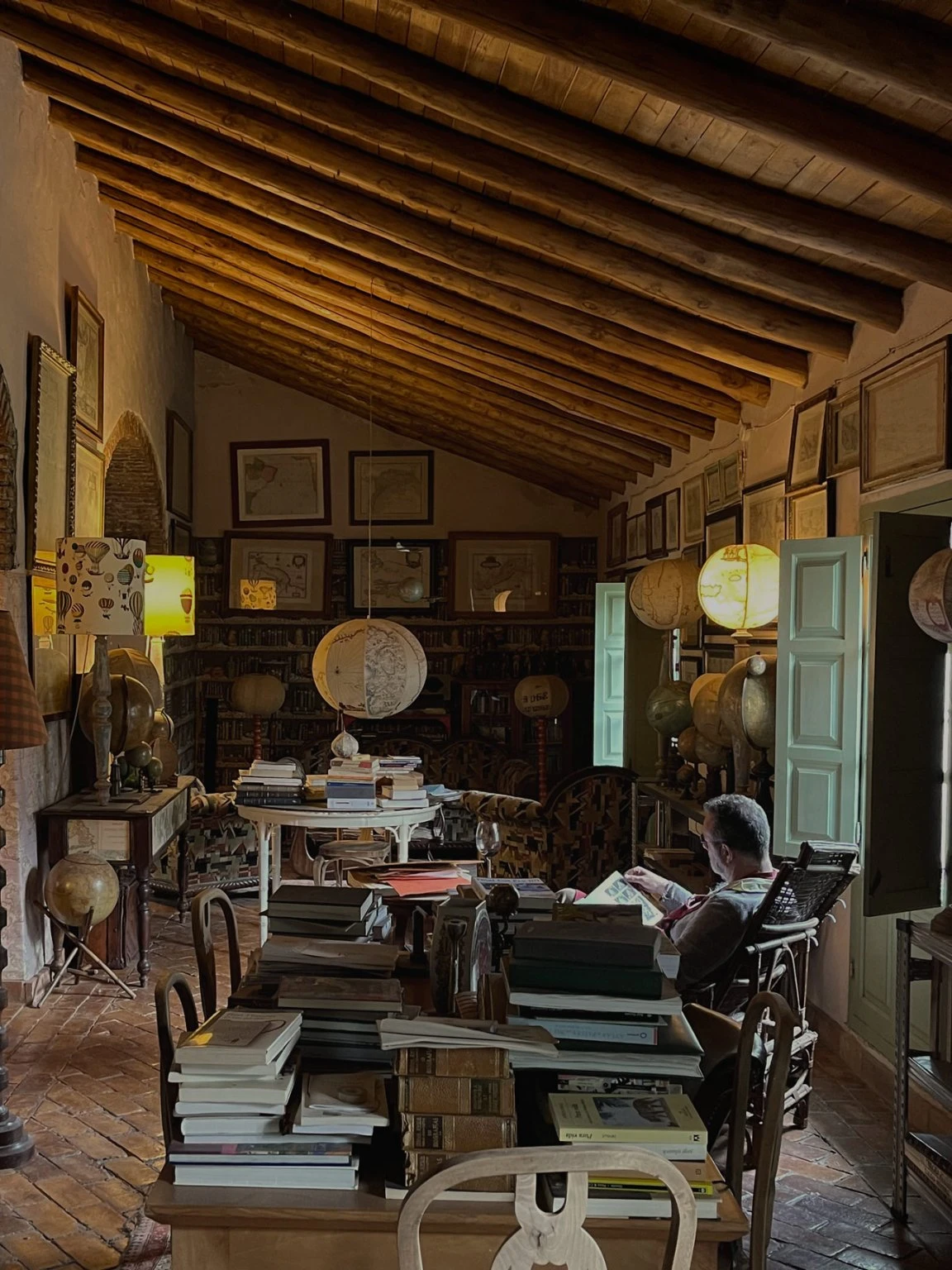 Scroll
Date of publication
1 January 2023
Andalusia
Antigua Real Fábrica de Hojalata
It is said that natural wines are not perfect. But who wants to be perfect?
Enrique Ruiz Fernandez is in no doubt: he prefers to have imperfections, but be authentic, just like his 100% natural wines from the vineyard to bottling and beyond.
On dismounting my horse in Taramona before an ancient 16th-century farmhouse, I gaze up at its crumbling walls and sagging terracotta roofs and one of my own prejudices comes tumbling down before it. In planning this trip to Andalusia, I had convinced myself this region of Spain had been irreparably ravaged by tourism, its soul tarnished beyond repair by a predatory industry.
Two people were to make me change my mind the very instant I met them.
The first is George Scott. An Englishman, yet somehow more Spanish than any Spaniard we have ever met, who for three days and nights leads us along a trail on horseback using ancient maps that follow old abandoned cattle trails.
On the backs of thoroughbred horses, we cross landscapes of indescribable beauty, immersed in silence broken only by the breathing of horses and the chirping of insects.
This man and this first close, one-on-one contact with Andalusia remind me how to dream.
With dusty jeans and cowboy hats tossed in the back of the jeep, we leave Taramona to head three hours south.
Dry, tangerine-coloured valleys dotted with olive trees and flanked by pine-covered mountains serve as our backdrop. It is a majestic natural setting that effortlessly embodies the rural romance of southern Spain.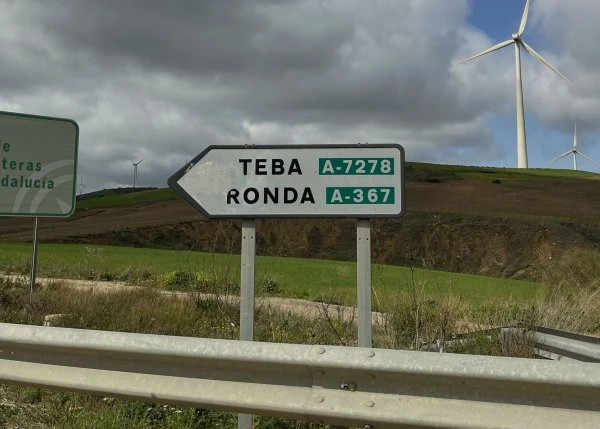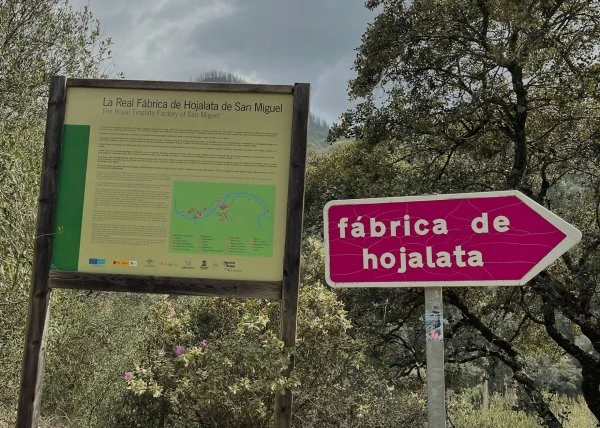 Only a 40-minute drive from Ronda but a million light years away from the crowds that flock to admire the city's El Tajo gorge, a bumpy track provides access to an environment that is hard to match in terms of its wealth of natural raw materials.
A curved wooded valley, with a stream running through it and crossed by an access bridge.
At the end of the valley lies a hamlet, a cluster of stone houses, a U-shaped square - Plaza de San Miguel - a church and, above all, the Old Royal Factory, which dates back to 1725 and can boast being the first blast furnace and the first national ironworks.
This remote corner of the Serranía de Ronda was chosen at the time because it was rich in timber, key to obtaining the charcoal used to fire the foundry, and surface iron mines, as well as the possibilities the sloping terrain offered to harness the waters of the Genal river to move the wheels of the machinery. If its secluded location was initially considered an advantage to protect the 'secret' of its workings, it later became a major and costly inconvenience, so much so that only a few years later, the plant was abandoned.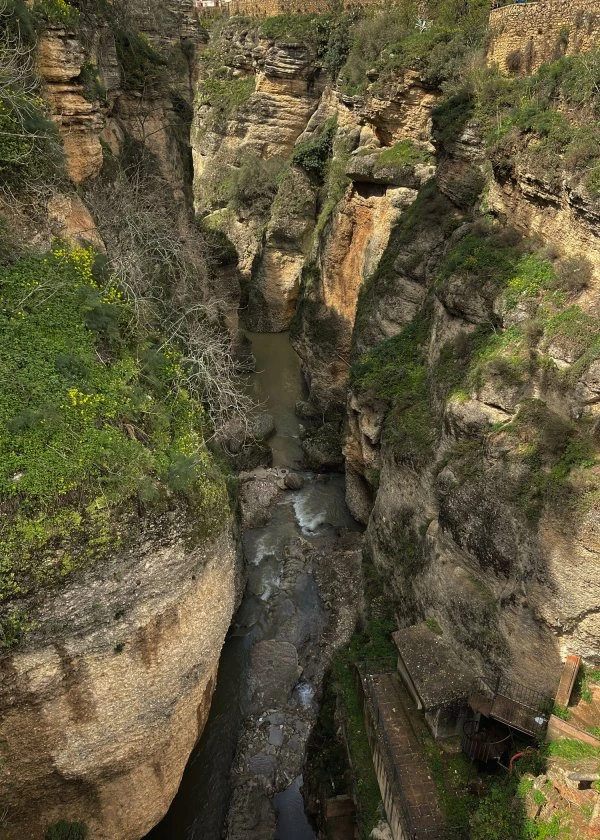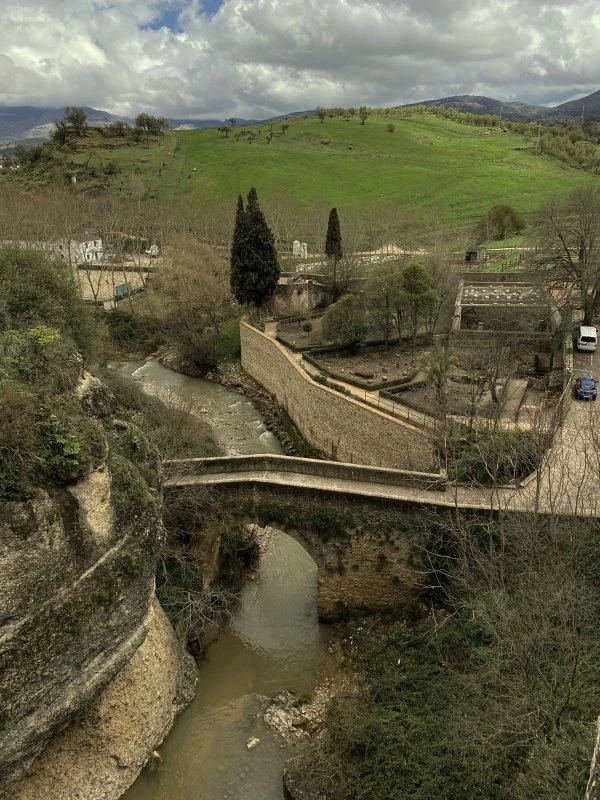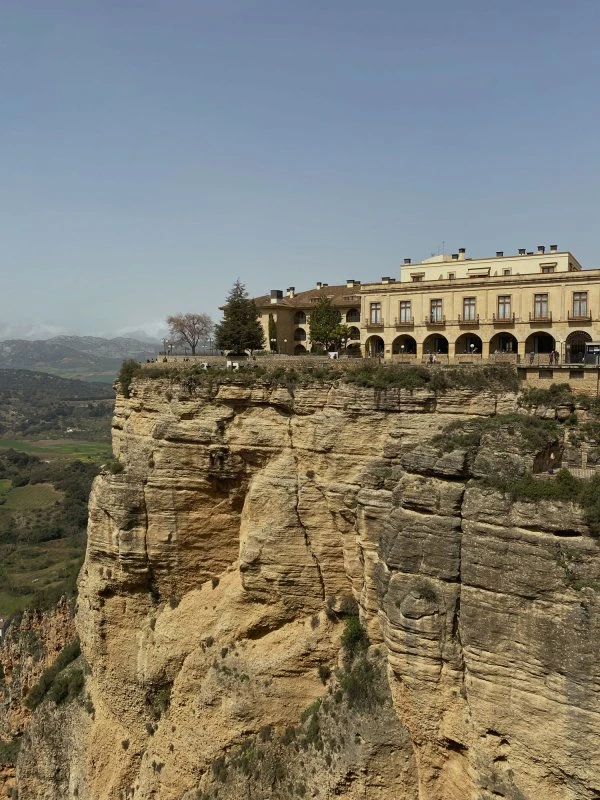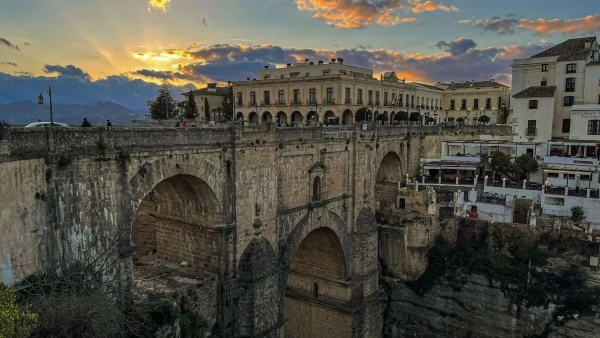 It is here that we are greeted by Enrique Ruiz Fernandez, the second person to make me reconsider Andalusia.
"Welcome to my world" immediately adding, "You have a shorter beard in your WhatsApp photo, you're different in the flesh".
I have never heard a quicker ice-breaker.
Enrique Ruiz Fernandez is the current owner of Antigua Real Fábrica de Hojalata, which he has completely renovated.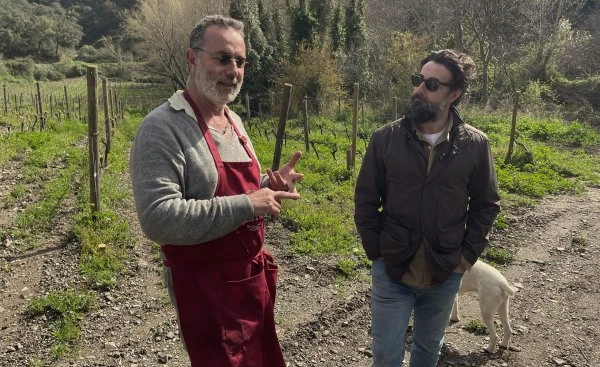 What we see on passing through the green entrance door takes time to understand, and Enrique is perfectly aware of it. The colours, the spaces, the details and even the people create a bucolic reality where Spain, France and South America all blend together seamlessly.
In this place, which Enrique has rebuilt as a home for himself and anyone who wants to visit him, you are free to be yourself and you can remain for a few hours, a night or a month.
Currently sharing a cup of Colombian coffee with us is Fernando, a Venezuelan who arrived some time ago and without the slightest idea of when he will leave. Vincent, a Frenchman of whom Enrique knows practically next to nothing, emerges from the kitchen to say hello. He says he arrived a few days earlier, and who knows - him maybe least of all - how long he will stay.
This is Enrique, a bohemian soul put at the service of others.
While sipping his coffee, the host begins to tell us the history of the place.
He does so quietly, almost poetically.
The Real Fábrica, located in the municipality of Júzcar in the Upper Genal Valley, was built at the behest of King Felipe V and for 15 years it held the national monopoly on the manufacture of tinplate. Legend has it that the King of Spain ordered the kidnapping of German engineers who knew the formula for making iron and steel sheets, and that these engineers had departed their homeland hidden inside wooden wine barrels.
The factory was the first of its kind in Spain, yet was only in operation from 1725 to 1788 when it fell into disrepair, thereafter becoming a meeting place and hiding place for brigands and smugglers.
That alone is already fascinating in itself; however, the best is yet to come.
"I used to be an international financial consultant, travelling all over the world, but one day someone told me that if I didn't put down roots somewhere I would never fully develop".
In 2001, already fleeing the hustle and bustle of Spanish metropolitan nightlife and already in search of these roots in the more seraphic lands of southern Spain, Enrique had the opportunity to buy the Antigua Real Fábrica de Hojalata from an eccentric British couple.
The husband, a former CIA spy, had made the Fábrica his hideout, whilst his wife practiced soothsaying and fortune-telling. The two were living in what was then the property's only inhabitable room. "The initial selling price was very high but the fortune teller told me that she had read my aura and that I should be the owner, and so in the end, I got the farm for a reasonable price."
Subscribe
Every month you go on a journey to discover a new, exclusive and surprising bottle. We search for and select the one that most excites us, and you receive it directly at home.
Gift or treat yourself to a subscription
Simona and I can't wait to hear more and we aren't disappointed.
In the same vein, the bizarre English couple had, in turn, purchased the Fábrica from a Danish painter, who had come here to live as a hermit and paint his agony after having been spurned in love during a trip to Japan. Stuff which, had it been penned by scriptwriter, the head scriptwriter would have decried with "That's too much, it's beyond belief".
In 2018, following 15 years of continuous restoration of the Fábrica using only original materials, Enrique received the glorious and coveted award for the best restoration of a national heritage site from his country, and he comments: "I prefer to rebuild and revive what is already there rather than build from nothing."
We stroll through areas once dedicated to metal production and which are now invaded by vines. Simona had studied before arriving here and is eager to show off what she has learnt, so she asks Enrique what drove him to produce Pinot Noir in the southernmost point of Europe. With the aplomb we are learning to recognise, he replies: "If you want to sell wine, you have to produce the wine you like and that you yourself would buy".
And here we are inside the old rolling warehouse, which now serves as the winery's production site.
Enrique is at pains to tell us that his wines are all 100 per cent organic and natural, and he also wishes to make something else clear.
"It is said that natural wines are not perfect. But who wants to be perfect? Do you want to be perfect, Gunter? Me, I prefer to have imperfections but be authentic."
But what does 100% natural mean? Here, at Antigua Real Fábrica de Hojalata it means that, from the vineyard to bottling, chemicals never once enter the production process. And by never Enrique really does mean never: "This is our guiding philosophy and we respect it in every aspect of the production process: not only on the agricultural side, but also the industrial side."
The crops are organic, the harvest follows the lunar cycle, the yeasts are indigenous, the sulphites never exceed 40 milligrams per bottle, the cork for the stoppers is harvested from the estate's oak trees, the cork is then sealed with beeswax from the estate's beehives, the label is screen-printed using only natural ingredients directly onto the glass itself, the bottles weigh less than 500 grams and all the winery's equipment runs exclusively on renewable solar, wind and hydro power.
Simona and I are greatly impressed yet also a touch intimidated by Enrique's unwavering commitment to his values.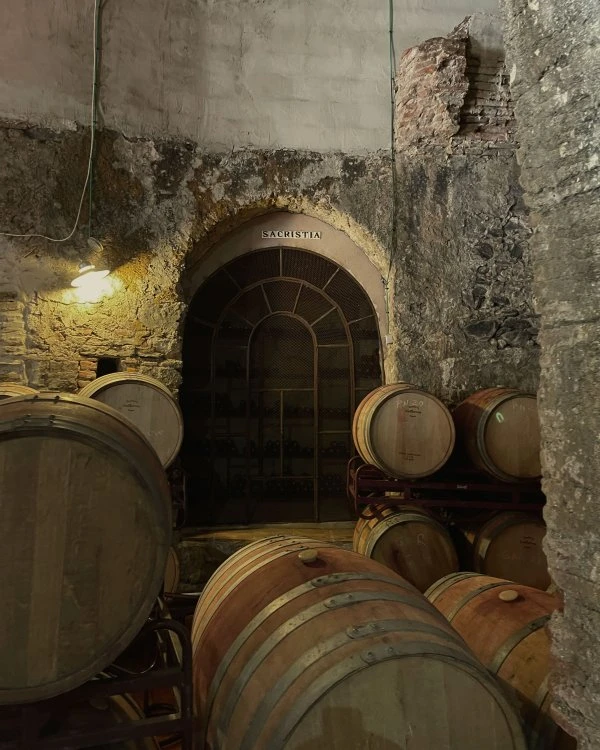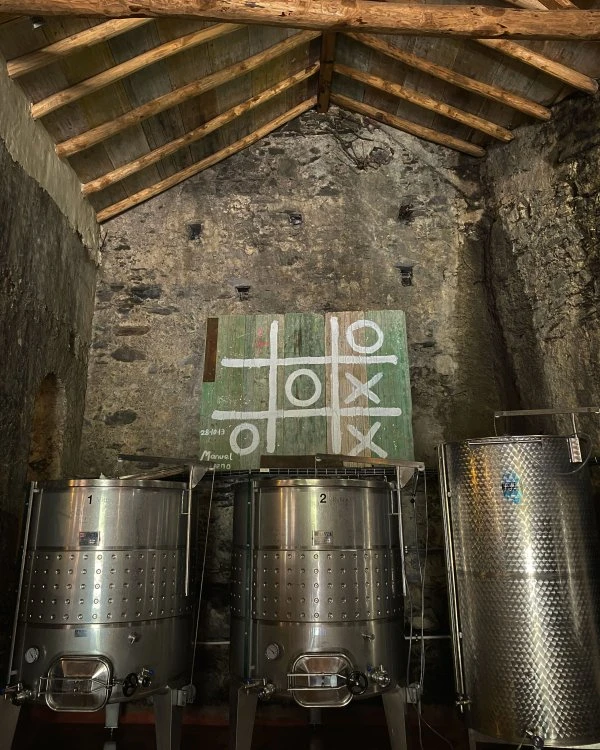 There is also a second philosophical principle to abide by: he wants the grapes he uses to be solely autochthonous varieties and to try to recover those that have been lost over time, such as Tintilla, Garnacha and Moscatel Morisco. The only exception is Pinot Noir, originally from the Bourgogne in France, whose behaviour on this estate is attracting winegrowers from all over the world, not least because (as Simona already knows) this plantation has been declared the southernmost in Europe by the European Union.
Enrique kicks off our tasting session precisely with the Pinot Noir.*
*Pinot Noir is a difficult grape to cultivate and vinify. It requires favourable climatic conditions and if it does not find them, it produces modest, unpretentious wines. If, on the other hand, it is allowed to give its best, it generates exceptional wines, capable of being both lively and fine, delicate and with character, with style and grit, lightness and persistence. Its land of origin is Burgundy and its pride and joy is red wine-making.
Nobody speaks while tasting this explosion of ripe red fruit with hints of spice, and Enrique drinks in our looks of approval and satisfaction. He savours them and smiles. I have already decided that this is my favourite, but I have not reckoned with the estate's other two prodigies who, from here on in, do their utmost to change my mind.
The first to do so was Moscatel Morisco. The wine from this grape, indigenous to La Serranía de Ronda, in its very first year of production was rated 94 out of 100 by the magazine Gúia Peñin.* It continues to excel in terms of quality and is considered one of the best white wines of Andalusia. Antigua Real Fábrica de Hojalata is the only winery in the world to produce it.
*This guide is a true world reference point, the most important of all, for Spanish wines. The influence of José Peñín, the guide's creator, is comparable to that of Robert Parker in the United States. The wines are rated by a team of experts on a scale of 50 to 100 points

.
At the first sip, Simona comes out with a simple, heartfelt 'Lovely!'.
Nose and palate are completely different, smell and taste take two different paths, both of which are surprising. Yes, I would say that 'surprise' is the word that best defines this singular, dry white.
With KBR.Net we return to the red and end on a high note. The wine presents itself to the nose with aromas of aniseed and menthol. With your eyes closed it seems like a perfume, and on passing to the mouth, it is the red fruit that comes into its own. So Spanish and yet so French like the other two, all deliciously elegant yet structurally complex.
Each of the three, Enrique points out, has a distinctive character that varies from year to year.
The appetite for sharing doesn't end here, though.
Economist, bohemian poet, philosopher and, we are also to discover, also a cartographer. We fall speechless when we see the collection of topographical maps hanging on the walls of the hall we have just reached: it is a veritable collection, which he proudly displays to us in solemn silence.
Our visit is over. However the emotions remain. Indeed, as I lie cradled in a hammock in the shade of the fig trees populating the Fábrica square.
I find myself catapulted into the pages of one of my favourite books, 'The Story of Ferdinand the Bull' by Munro Leaf, where the bull, so captivated by the flowers in the women's hair, lies down in the middle of the bullring to fully enjoy them.
Between one thought and another, I realise that Enrique has found his happiness in respecting himself and the country that gave birth to him, bringing a historic, national monument back to life, rescuing prized autochthonous vines from oblivion and setting a record with his Pinot Noir plantation.And all this happened because he listened to the words of a fortune-teller.
Thank you, Enrique, for sharing your story with me.
Gunter's other travels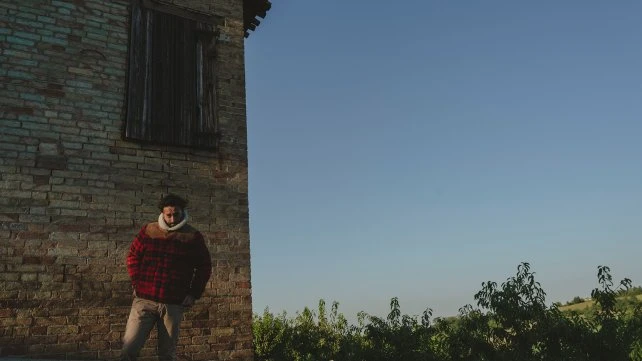 The vineyard, creativity and connections.
Between the three of us,
we have everything we need.
We make the wines we love; not what market rules dictate.
Every month
another travel, another story.
Keep following us.